We are extremely excited to be writing our first production log entry!  We returned from Japan about 2 weeks ago and are back in action.  This week was a busy one, and we have some really cool projects to share!
We completed Blake the bear this week!  This was a fun character to work with.  It's always fun to get a species that you don't see too often.  Getting the head shape for a bear is a bit of a challenge since you want to make sure the species is distinguishable.
The finished head turned out great!  We really love working with scars.  The scar on his left eye really makes this character unique and gives him a lot of personality.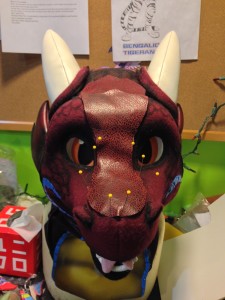 We have also been hard at work on Lethias the dragon.  This guy features a LOT of new materials and techniques.  He is an extremely detailed creation!   This guy is made of a faux leather material as well as vinyl.  He is in the final stages and we hope to pull him all together at the beginning of next week.
He has many different sets of plates that are all secured with velcro to the bodysuit.  Each plate set has to be patterned out then cut and glued.  After the adhesive has dried, the velcro is attached and the plates are each painted to give them depth.
The entire bodysuit was hand scaled with an airbrush giving it TONS of texture and making the body appear more realistic.  It was hours of work painting hundreds of scales but the result is visually striking.
This costume will be one of the most complicated costumes we have made!  We learned a lot and it has been a pleasure bringing him to life.
We wrapped up this week doing some final scale plating work on Lethias as well as carving a head that will be for a white tiger for Bengalic.  We will be working on that guy next week.  We will have another production log entry posted next Friday!  Keep an eye out for it!