Wow it seems like this week went FAST!  I can't believe it is already June 6th.  We are in full swing preparing for Anthrocon for the remainder of the month.  We are trying to get as many tails, partials and hand sets made as possible.  We have new help in the workshop which will boost the number of items we can produce.
This week we finished up Polaris and she came out SO cute!  So many stars and such bright colors.  It's hard for her not to bring a smile to your face!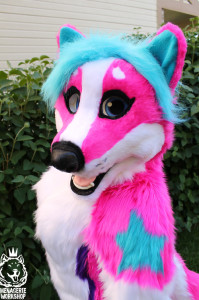 We are also working on finishing up Skylar.  We are nearly done, just waiting on a few things to dry before we can do the final touches!  We really like making horses and it has been a while since we have brought one to life.  We are expecting to have him finished on Tuesday next week.
There are a few other projects that will be peppered into our schedule over the next month including a bodysuit for Wolfie and a secret African critter that will be delivered at AC.  We will also use this time if we can to get ahead in the queue if we can!
We hope everyone has a wonderful weekend!  Enjoy the nice weather!  This time of year is so beautiful in Colorado!
–The Menagerie Workshop Team